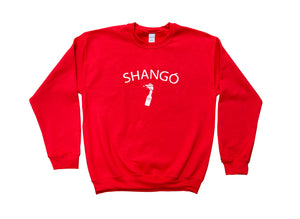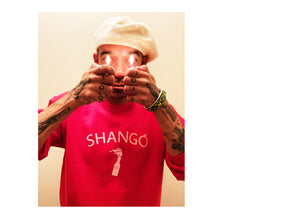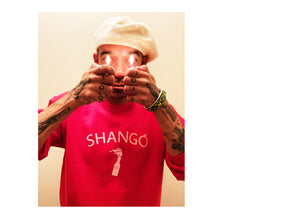 GTMM SHANGÓ CREWNECK SWEATSHIRT
Kawo Kabiesile Shangó!!!!! The Orisha King of fire, lighting, justice, music and dance finally gets a GTMM official crewneck! Building on the Ghost Town Mini Mart series that began with Yemayá this red crewneck sweatshirt sports the Shangó name with a straight talkin' fully lit Molotov cocktail just to let 'em know we ain't playing. The Shangó energy is dialed all the way up on this one, with the royal Basquiat crown dropping in to seal the deal. Explosive shit for all of my god like short fused friends and fam!
As usual, each of these are screen printed by hand at the Ghost Town Mini Mart HQ by ÌFÉ frontman and GTMM shopkeeper Otura Mun. Babylon, you're going down!!