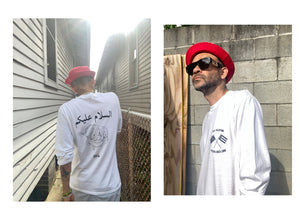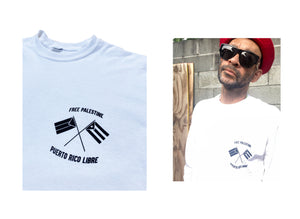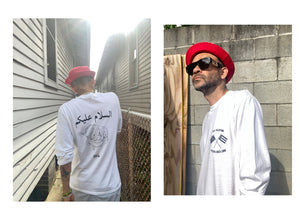 GTMM x Discos Ifá | BANGAH - FREE PALESTINE LIBRE PUERTO RICO - LONG SLEEVE TEE
Free Palestine, Libre Puerto Rico. That's the message. Natural allies, as both suffer from and fight against a racist settler colonial attack. It's imperative that we keep the pressure on both fights at all times. Sometimes that can be as simple as publicly saying what we want to see. Here at GTMM we want freedom for the Palestinian people and freedom for Puerto Rico. May peace be upon both lands and may Ogun, Zarabanda, and those that have passed before us give us the strength to fight for that freedom.

This is a long sleeve T-Shirt with front and back graphics. Each shirt is screen printed by hand at the Ghost Town Mini Mart HQ by ÌFÉ front man Otura Mun. Freedom Now! Say it loud!!