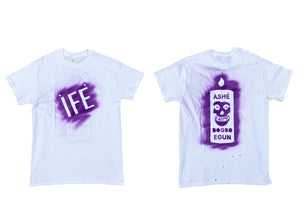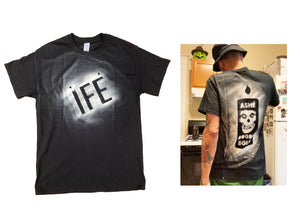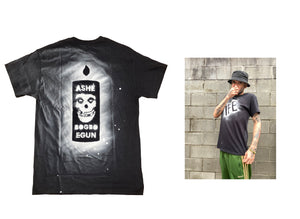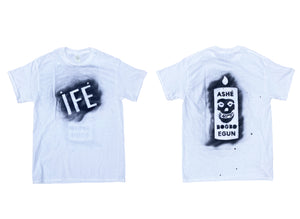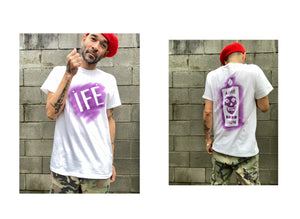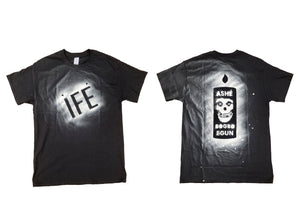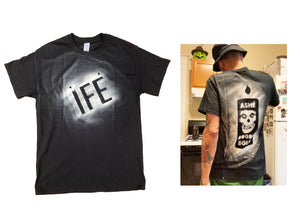 GTMM X Discos Ifá | ÌFÉ ASHÉ BOGBO EGUN - DIY TEE
Inspired by the legendary Misfits and the early 80's punk scene along with Audre Lorde's "Our Dead Behind Us" GTMM and Discos Ifá team up for this new DIY ÌFÉ tee. Ashé Bogbo Egun, roughly translates to "power to all deceased". Coming on the heals of ÌFÉ's recent EP "The Living Dead | Ashé Bogbo Egun" this punk style tee doubles down on the idea that our dead are with us always, whether we can see them or not.
Of the shirt Mun says, "I wanted to make something that would play on the notion that there are things around us, significant and powerful, that we may not be able to see with the naked eye, but that often leave traces of their presence if we know what to look for or how to look. I remember as a kid being fascinated by TV detectives "dusting for fingerprints", that these prints, these traces of something were there the whole time but we couldn't see them. There's something of that in our relationship to the deceased. Our dead are with us always, even though we can't see them we know that they're there." 
Each shirt is hand painted by ÌFÉ front man and GTMM shopkeeper Otura Mun using a special fabric spray paint making each shirt a one of a kind affair. 3 colorways to pick from!! Purple on White, Black on White and White on Black. These are super duper DIY style and pretty damn limited on the quantity side since they take forever to make. Grab yours today before they're gone!!! Oh, and we also recommend ripping the sleeves off right out the box... Just saying ;)