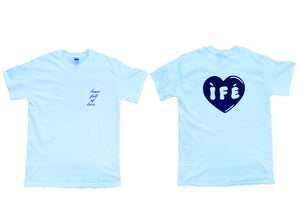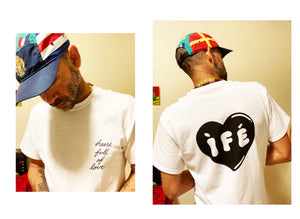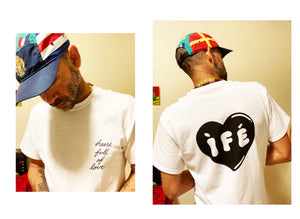 GTMM X Discos Ifá | ÌFÉ - HEART FULL OF LOVE TEE
This HEART FULL OF LOVE tee is fresh out the oven and made just for ÌFÉ's 0000+0000 album release tour kicking off in Philly on Nov 16th and ending in Washington DC at the legendary Black Cat on Nov 19th.
These were designed in collaboration with Dallas based illustrator, artist, DJ and trend setter Jessi Pereira. Her beautiful hand style text and valentine bring the sweetness to this tee. You can see her custom ÌFÉ valentine in action in the official video for Heart Full of Love (dropping Nov 15th) as Mun and Lavoski bomb the streets of New Orleans with her iconic image.
Now and forever ÌFÉ means love.
As always these are hand silkscreened one by one at the GTMM HQ by ÌFÉ front man and GTMM shopkeeper Otura Mun.
Grab yours today!!!!
See ÌFÉ on tour now!
Nov 16th - World Cafe Live Lounge - Philly, PA
Nov 17th - Elsewhere - Brooklyn, NY
Nov 18th - Bombyx - Northampton, MA
Nov 19th - Black Cat - Washington, DC
Tickets links here!