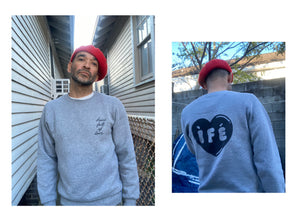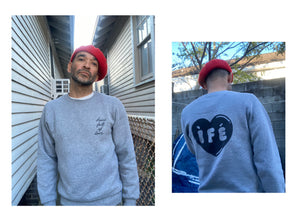 GTMM x Discos Ifá | ÌFÉ - HEART FULL OF LOVE - CREWNECK SWEATSHIRT
ÌFÉ dropped this on a white tee for their East Coast Tour this past Fall and now it's available on a heavy duty Russell Athletic Crewneck sweatshirt in a clean and classic grey and black just in time for Valentines Day.

Designed and hand printed by GTMM shop keeper and ÌFÉ front man Otura Mun, the shirt features the hand drawn artwork of GTMM collaborator Jessi Pereira .

This special Valentines Day edition includes an actual Valentine (think grade school) signed by Otura Mun and an ÌFÉ Heart Full of Love B&W sticker.

ÌFÉ means looooooooove!