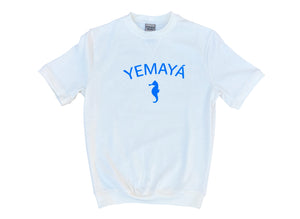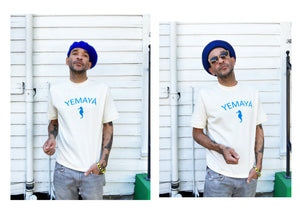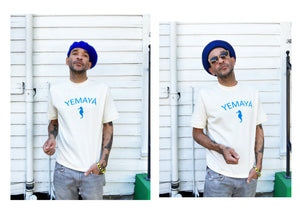 GTMM YEMAYÁ SHORT SLEEVE SWEATSHIRT
Omioooo Yemayá!!! This one goes out to all our mermaids and aquamxn. Yemayá, ruler of seas and mother of creation. We salute you!!
This is a cream colored short sleeve v-stitch crewneck sweatshirt printed in light blue. Super soft and flat out adorable. The style meter is going wild on this one! Each of these are screen printed by hand at the Ghost Town Mini Mart HQ by shopkeeper Otura Mun aka ÌFÉ. Scoop yours and let 'em know that everyday is Mothers Day! Aché Yemayá!
AVISO.... We did a very small first run of these so if you're on the fence with this go on and hop off and grab one of these before your size runs out. These are gonna disappear quick.