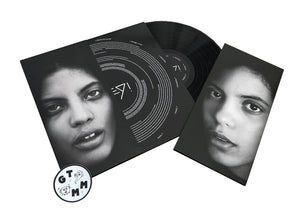 Ibeyi - Ibeyi Vinyl LP
Took us a bit but we've finally got a few of these on the shelves at GTMM!
Ibeyi's first full length album was an epic affair that opened a new generation of listeners to the magic of Orisha music. The music seems to pull from many familiar places but ultimately brings the expression into a unique space. I hear Bjork, Geezy, Tory Amos, Kanye, Zap Mama... There were a few albums that sort of kicked open the door for "new Orisha music" right before 2020 and this was one of the most important. The LP has a unique side opening box style jacket, with a sort of gothic NAS style design direction using the twins portraits and baby pictures on opposing sides. If you don't have this in your collection you're slipping. Scoop up your copy of this classic now! Ashé Ibeyi!