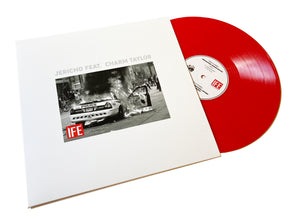 ÌFÉ - Jericho Feat. Charm Taylor Lmtd 12" Vinyl Single
This the new single from ÌFÉ, Jericho Feat. Charm Taylor on Limited Edition Italian Red Vinyl!! Smoking hot!
This is ÌFÉ's 1st release since 2021's 2nd full length 0000+0000. Jericho, the first single off of ÌFÉ's forthcoming EP "Beat The System", is a political barn burner feating New Orleans rapper and Web3 goddess Charm Taylor. Recorded at ÌFÉ's studio in New Orleans, mixed in ATX by Stuart Sikes, and mastered in London by Bob Macc, the tune is a subsonic electronic drumming ode to the Orisha of Justice, Music and Dance, King Shangó.
The vinyl single includes Main, TV Track, and Instrumental Versions of Jericho Feat. Charm Taylor on the A Side, with an unreleased DJ Nature Remix of Voodoo Economics (WolfMan) Feat. Lavoski on the B Side (Instrumental and Acapella Versions included). 

The 12" is limited to 300 copies on Italian red vinyl, pressed by ÌFÉ and friends at The New Orleans Record Press. This is literally handmade by ÌFÉ for you guys only!! Order your copy now before these things are GONE!!!